Entertainment
Radical director on bringing a monumental true story to life
"And no, it's not dangerous to confuse children with angels," says William H. Macy's former child star role in the film magnolia (1999). A new film from the director Christopher Zalla (Law & Order, Blood of My Blood) revisits this idea and clearly illustrates the idea that children hold the future in their hands, and rightly so. With Eugenio Derbez (CODA) as a "radical" teacher responsible for some brilliant minds, the powerful new Spanish-language drama radical takes us to a tense Mexican border town plagued by corruption, crime and more.
We recently caught up with Zalla to find out more radicalwhich is based on the true story described in a famous book 2013 article in Wired Magazine.
"Comedy is almost a cover"
Viewers well-versed in Mexican cinema will know firsthand that Derbez is a comedian at heart, so it's a refreshing change to see him take on the lead role in a more serious project. He also played the music teacher in CODA, although both roles have some comedic moments to offer despite the otherwise more dramatic content. "Like most comedians, his path there goes through a place of pain," director Zalla told MovieWeb when describing Derbez's character Sergio radical. He continued:
The comedy is almost a camouflage, a defense mechanism and a shell… But I challenged him. And there was actually a knockout fight for freedom over his hairstyle – this time: 'What if we didn't give you a costume, a disguise to hide behind?' You've never done that before.'
"And the real character that we're telling a story about was flying by the seat of his pants, he was having a nervous breakdown, he was desperately trying something new," Zalla added. "And my theory is, if we tear down your security blanket, we're going to get the same kind of vulnerability. Well, I'm telling this to a man who embodies the light personified, he's just this beautiful human being. And he I can't pick up a pen without making you laugh. So you already have this type of resource. But working with him was magical. And he sent me the project. A place completely devoid of life, hope or possibility? It will be an interesting process."
A film that has been in the making for 15 years
radical is a film that Derbez has had in his head for years, as Zalla also told us. He described how it all began to bring the true story to life after it remained in development for years. "My very first film was my graduation film for graduate film school at Columbia. And to produce this film I hired my classmate Ben Odell, who knew Eugenio. This is 2007 and this film won the Grand Jury Prize at Sundance for US Drama and it was a great experience."
"And at that time Eugenio said, 'One day I'll go there and call you.' He did. It took 15 years, but in the meantime Ben and Eugenio continued to work together and together founded a company called 3Pas, which is now a leading studio. In fact, it is probably the largest studio focused on Latino content in the world. They have the highest-rated show on Apple and the highest-rated show on Amazon in Latin America."
"And that's how Eugenio came from the awards CODA, and now he's kind of at the top of his career and he can do whatever he wants, including literally getting offers to do Marvel movies – he chose instead to tell this story and go back to Mexico and make a movie , which was in Spanish," Zalla explained. "And first of all, it speaks to who he is." But for me it was just this great opportunity to get the band back together.
Related: Mexico Makes Amazing Movies: Why Does Nobody Watch Them?
Eugenio Derbez brings Radical to life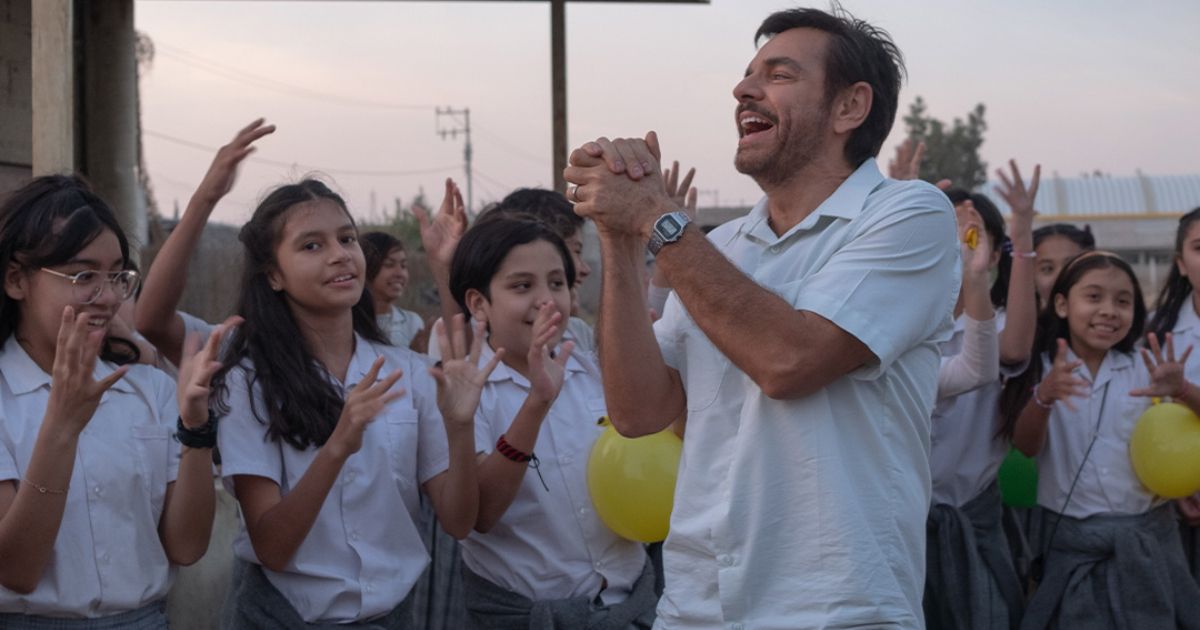 As discussed in our recent interview with Derbez, one of the film's most earth-shattering moments is when teacher Sergio pulls aside the class clown student who has just made a humorous outburst in front of the other students. Instead of berating him, Sergio tells the boy, "Never change." It's an uplifting turn of events that sets the tone for the rest of the film and the "radical" way Sergio teaches his students.
"One of the most remarkable things about this process was watching Eugenio embrace my writing – and as a writer, as a director, you're always looking for tension and drama, and that usually brings conflict – and he kept pulling that out." Part where his character did everything he could to attack the dignity of the person he was talking to," Zalla said.
And the scene was written, I can't remember exactly what it was about, but the actual line, "Never change," when he said that in rehearsal, he asked me, "What do you think about that?" "?' I just cried there. It touched me so deeply. And let me tell you, this movie made me a screamer, but this kind of thing happened all day, every day.
"You can't help but be humbled by the enormity of it all and, in some ways, the mission of the project, which I think we all felt extremely responsible to do justice to," Zalla added.
Related: The Best Movies About Teachers, Ranked
"Embrace the joy of learning"
There are many more unforgettable moments radical, say the least. Together they create an inspiring feature that gives us hope for the future of education. "The scenes I enjoyed most were watching the children embrace the joy of learning," Zalla said. "We have this school scene in the middle of the movie, and one of the things that I don't think any of these movies have ever done and that I wanted to see was: What if we actually saw it? We've never seen the process before." "First, I try to ignite the spark, but second, I try to let the spark ignite from both sides."
And it was so much fun because the kids took part in the scene and spontaneously brought their thoughts and answers from the script because they were actually learning and having fun themselves. And then I thought, 'Okay, we've got something here.' We're on to something.' But these scenes of simply discovering the joy that comes with satisfying one's curiosity paid off and satisfied the hunger.
Zalla left us with a general thought about the power of cinema as an art form: "A few times in my life I have seen a few works of art, one of which was the Richard Serra exhibition at the Guggenheim in Bilbao. And one of them was the "Starry Night" modern, where I felt like this person was communicating with me. And it's that connection when we make art where it's like the whole reason you're doing it is to have that communication. And then when you get it, it's like, 'Okay, I did my job.' It's very gratifying."
radical is now in US cinemas and it is very, very enjoyable.