Entertainment
"Bachelor in Paradise" Season 9 Spoilers: Who Gets Engaged?
Bachelor in paradise Season 9 has already been a wild ride and could be the most chaotic season ever. Reality Steve has once again come to the rescue of spoiler-hungry fans and revealed that this season, two couples are leaving the beach engaged. In addition to the engaged couples, the Bachelor Nation blogger sheds light on some other surprising Bachelor In Paradise Season 9 spoilers. If you don't want to know the ending of BIP season 9, you should stop reading here!
Aaron and Eliza become engaged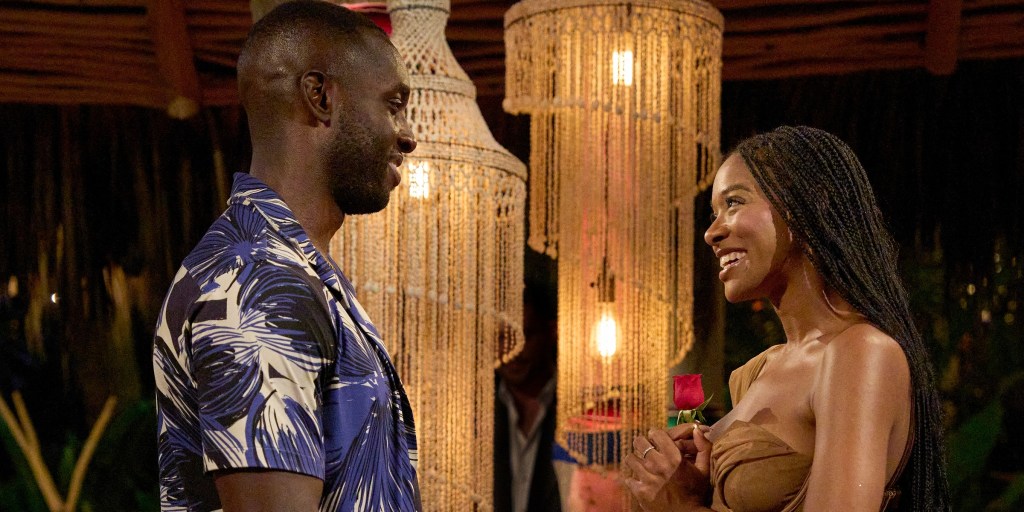 The first engaged couple this season is Aaron Bryant and Eliza Isichei, which isn't a big surprise. Aaron and Eliza have been one of the few consistent couples so far, despite some problems in their relationship. Both Aaron and Eliza were there on the first day and were pretty into each other from the start. There's always that one "it couple" on the beach, and this season it seems to be Aaron and Eliza.
This also applies to Kat and John Henry

The more shocking couple that Reality Steve revealed was none other than Kat Izzo and John Henry Spurlock, who were also reportedly engaged. The romance between Kat and John Henry has just begun to blossom as he originally wanted a relationship with Olivia Lewis. After ending things with Tanner Courtad, Kat decided she was interested in seeing what happened with John Henry.
So far, Kat has come off somewhat desperate in her hunt for John Henry. Although he seems interested, it's also clear that the two have very different personalities. Kat is loud and aggressive, while John Henry seems calmer and gentler. It will be interesting to see how this relationship develops as it had a somewhat unconventional beginning.
Aven and Kylee dated but were not engaged
Reality Steve also revealed that although Aven Jones and Kylee Russell dated as a couple, they did not get engaged. That's not a big surprise considering Aven and Kylee are one of the most solid couples on the beach right now. The couple is reportedly still doing well and has been spotted together several times since filming ended.
Brayden ultimately chooses Becca, which results in Rachel eliminating herself
Surprisingly, Brayden Bowers and Rachel Recchia have been an enjoyable couple so far this season. After their artsy date, Bachelor Nation viewers loved the couple. However, her dreams were short-lived when Becca Serrano went to the beach. She brought Brayden in for a chat and later asked him to go on a date with her, which he accepted.
According to Reality Steve, Brayden ultimately decides to pursue Becca instead of Rachel. As a result, Rachel decides to eliminate herself. But before the next rose ceremony, Becca supposedly collapses and eliminates herself too. This leaves Brayden all alone, so he will probably also eliminate himself or be eliminated in a rose ceremony in the near future.
Blake also eliminates himself
According to Reality Steve, Blake Moynes is another cast member who is self-eliminating on season 9 of Bachelor In Paradise. Since day one, Blake has had what appears to be a committed relationship with Jess Girod. However, Jess later admitted that she wanted to pursue other people and suggested Blake do the same.
Not long after, Genevie Mayo came to the beach with a date card and invited Blake to chat. Blake later agreed to a date with Genevie, which left Jess quite upset. While it's not clear what will cause Blake to eliminate himself, it seems pretty certain that he is no longer in a relationship with Jess or Genevie.
Tyler and Mercedes break up
The latest Bachelor In Paradise season 9 spoiler revealed by Reality Steve was that Tyler Norris and Mercedes Northrup are finally breaking up. This isn't a huge surprise as their relationship was one of the more accidental ones to emerge. While the two seemed to fit together, they didn't stand out as one of the stronger couples on the beach.
Since Reality Steve specifically reported on Tyler and Mercedes, it's possible that they are one of the last remaining couples. On the other hand, it is also possible that he accidentally received additional information about these two. Either way, it's obvious that Tyler and Mercedes unfortunately didn't last long!
Tell us: Which of these Bachelor in Paradise season 9 spoilers surprised you the most?