Entertainment
10 Movies from the 2000s with Extremely Dark Endings
The early 2000s were a strange and serious time, from the war in the Middle East, President George W. Bush, and 9/11 was still as fresh in our minds as ever. Cinema often reflects the era in which it is being made, and the 2000s were no exception, as many of the movies at the time were extremely serious and dark. The most famous entry being the Jason Bourne franchise, reflecting a much different version of action that was grittier and was set in a world that was much darker and filled with espionage than previous spy entries. Each movie on this list is darker than the last, this is a list of 10 movies from the early 2000s that are not only dark in general but have exceptionally dark endings.
Man on Fire (2004)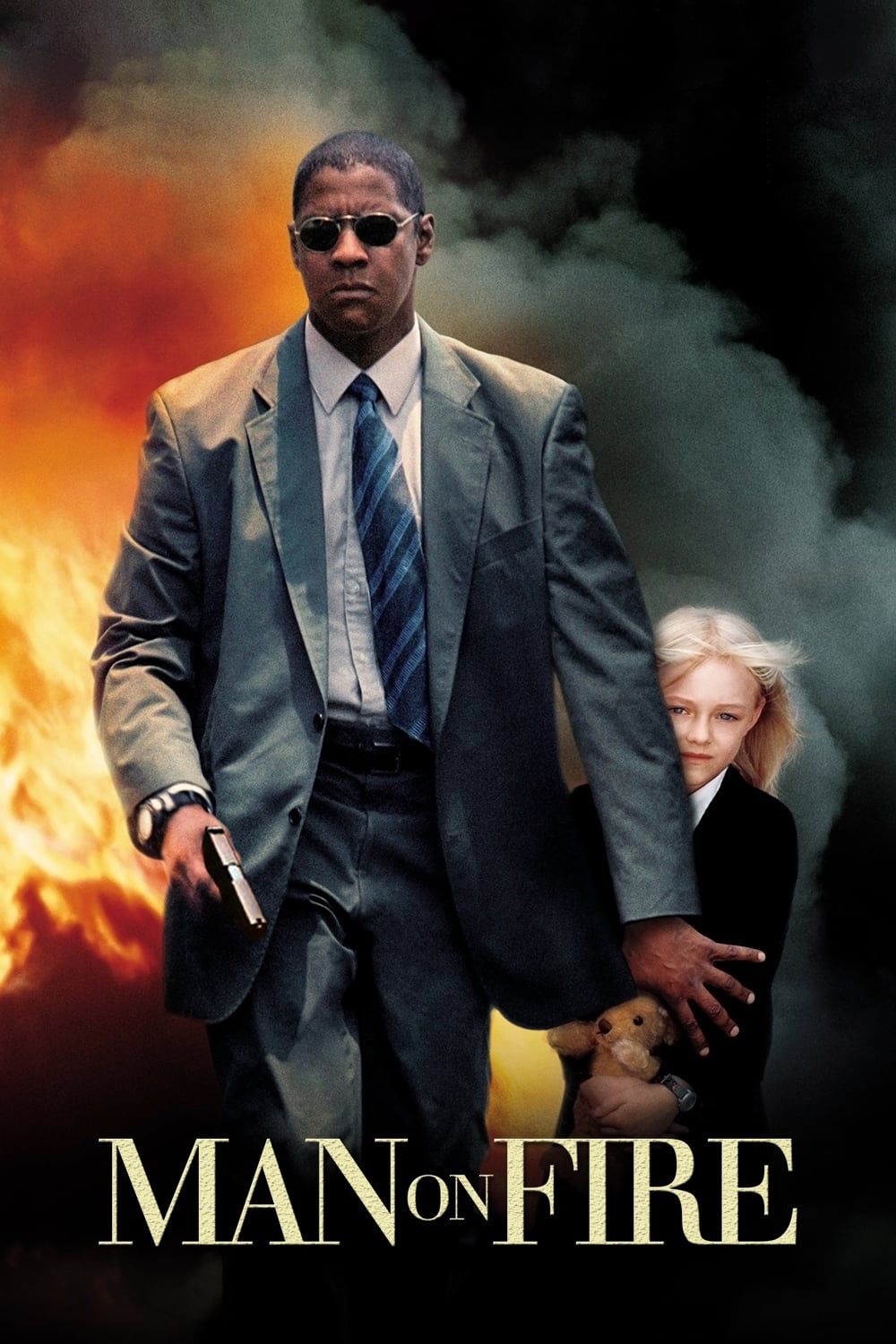 Man on Fire
Release Date

April 23, 2004

Director

Tony Scott

Cast

Denzel Washington, Dakota Fanning, Marc Anthony, Radha Mitchell, Christopher Walken, Giancarlo Giannini

Main Genre

Action
A pretty bleak Tony Scott film in which he takes the audience deep into a world of corruption and violence. Man on Fire has an absolute all-star cast, led by the always excellent Denzel Washington as a former CIA operative, struggling with alcoholism and depression, who decides to take a job as a bodyguard in Mexico City after a failed suicide attempt. The person he is guarding is a young girl, played by the exceptionally talented Dakota Fanning, with who Washington quickly develops a strong relationship and is subsequently kidnapped under his watch. What follows is a bloody movie in which Washington goes on a one-man revenge mission to get her back and uses any means necessary to return Fanning safely to her family.
What Happens at the End?
At the end of the film, Washington is able to get her safely back to her family but was shot not long before in an effort to find Fanning's location. The movie ends with Washington telling Fanning that he loves her before she is carried away by her mother as Washington succumbs to his wounds. Though the movie is unrelentingly dour from beginning to end, which is especially tough due to its two-and-a-half-hour runtime, it is still filled with great performances from everyone involved. Washington is always outstanding, but it is Fanning who steals the show with her haunting performance, which is extremely impressive as she is not only holding her own against Washington, but she was also ten at the time of this movie's release. A movie that screams that it was made in a post-9/11 world, Man on Fire is an action-packed masterpiece that is criminally underrated.
Stream on Max
The Road (2009)
John Hillcoat's extremely faithful adaptation of Cormac McCarthy's novel of the same name is one of the most iconically bleak movies ever made. The Road stars Viggo Mortensen and Kodi Smit-McPhee (credited as just Man and Boy) as a father and son in a post-apocalyptic America, walking across the country in search of a safe haven. On their journey, they have to endure cannibalistic rapists and encounter other survivors that the movie skillfully always makes you question if they are friend or foe.
What Happens at the End?
The most disturbing of which is at the end of the movie, after the father eventually dies from being shot in the knee with an arrow from blood loss, the son is then approached by a strange man and his family. He claims to be "one of the good guys", but from what the audience has been shown of the world, there is no way to know for sure if that is true, and then the movie cuts to black. After having been beaten down by the world in which this movie exists, makes it very difficult to trust anyone, paired with the fact that this boy just watched his father die in front of him, which adds up to make an incredibly upsetting ending. The Road is a hopelessly pessimistic meditation on human nature and fatherhood that is not only thematically bleak but visually bleak as well.
Stream on Freevee
Cloverfield (2008)
Cloverfield
Release Date

January 15, 2008

Director

Matt Reeves

Cast

Lizzy Caplan, Jessica Lucas, T.J. Miller, Michael Stahl-David, Mike Vogel, Odette Annable

Rating

PG-13

Runtime

90

Main Genre

Action
A modern horror classic that was surprisingly green-lit when 9/11 was still very fresh in our minds, Matt Reeves' Cloverfield is about an unstoppable giant monster that wreaks havoc on New York City. The monster attacks while a group of friends is having a farewell party that are all separated in the chaos. All the friends are picked off one by one, either by the monster or the strange creatures that fall off of the monster and hide in the subway tunnels that they travel through to avoid the monster. The rare found footage horror movie that knows how to use the technique. It has the right amount of shaky cam that makes this a horrifyingly realistic movie with a strong sense of urgency and danger.
What Happens at the End?
None of the protagonists make it out alive, ending with the final characters thinking that the monster had been killed, and they are going to make it out of the city alive. Instead, the giant monster has a second wind and goes straight for them, eating the remaining survivors. Cloverfield is a dark horror movie, but is extremely compelling from beginning to end due to its fantastic chills and thrills.
Stream on AMC+
No Country for Old Men (2007)
No Country for Old Men
Release Date

November 8, 2007

Director

Ethan Coen, Joel Coen

Cast

Tommy Lee Jones, Javier Bardem, Josh Brolin, Woody Harrelson, Kelly Macdonald, Garret Dillahunt

Rating

R

Runtime

122

Main Genre

Crime
Another movie based on a Cormac McCarthy novel of the same name, the Coen brothers' No Country for Old Men is a captivating yet grim modern-day Western crime-thriller that hearkens back to their first film, Blood Simple. Involving three main storylines, the most iconic of which is Javier Bardem as Anton Chigurh, a ruthless hitman who wields a cattle gun as his weapon of choice. He is after Llewelyn Moss, played by Josh Brolin, who stole drug money after stumbling upon the aftermath of a deal that went south with no survivors. They are both being pursued by Sheriff Ed Tom Bell, played by Tommy Lee Jones, a tired and old lawman who feels out of place in an increasingly violent world.
What Happens at the End?
The film ends with Moss being killed, Chigurh in the wind, as it were, and Bell having finally retired. Our protagonist is brutally murdered by a bloodthirsty hitman who is unaccounted for, and Bell, who comes to terms with the fact that he no longer recognizes the place he was sworn to protect. Bardem is terrifying in every scene with his strange haircut and unique choice of weapon, always flipping a coin and asking his victims to choose heads or tails. If they call it correctly, he lets them live, but if called incorrectly, they die. What makes Bardem's scenes so scary is his unflinching intensity and the writing that draws out his kill for an uncomfortable amount of time. Joel and Ethan Coen's No Country for Old Men is an absolutely haunting masterpiece that is one of the best movies of the last 20 years.
Stream on Showtime
Related: The Brilliant Sound Design of No Country for Old Men
There Will be Blood (2007)
There Will Be Blood
Release Date

December 28, 2007

Director

Paul Thomas Anderson

Cast

Daniel Day-Lewis, Martin Stringer, Matthew Braden Stringer, Jacob Stringer, Joseph Mussey, Barry Del Sherman

Rating

R

Main Genre

Drama

Runtime

158
Arguably the most iconic outing for both director and star, Daniel Day-Lewis leads as Daniel Plainview in Paul Thomas Anderson's There Will Be Blood. Set at the turn of the 20th century, Plainview is a miner-turned-devious and ruthless oilman who will do whatever it takes on his quest for wealth. He clashes with Paul Dano as the town preacher, Eli Sunday, who wants a cut of the profits that Plainview is going to make from buying Sunday's land as it sits on top of a major oil deposit. Plainview is able to buy up all the land he requires in order to build his business except for the land of William Bandy.
What Happens at the End?
At the end of the movie, Plainview is now a raging alcoholic and lives alone in a massive mansion, and Sunday, who is now a radio preacher, comes to visit him. Sunday offers Plainview to sell him the Bandy land to which he agrees if Sunday renounces his faith. After revealing he is in a lot of financial trouble, Sunday does reject his faith, to which Plainview callously responds by telling him that the land is worthless anyway, as he has already sucked it dry of its oil, like a milkshake. The film ends with Plainview sitting next to Sunday's lifeless corpse, as he has beaten him to death with a bowling pin. An almost three-hour movie that beats you into submission with its somber themes, but keeps you enraptured with stunning cinematography and a wonderfully written script. Having thrown subtlety out of the window, There Will Be Blood is a scathing indictment of American capitalism and greed in which Day-Lewis and Dano are giving the best performances of their respective careers.
Stream on Paramount+
The Mist (2007)
Stephen King's The Mist
Release Date

November 21, 2007

Director

Frank Darabont

Cast

Thomas Jane, Marcia Gay Harden, Laurie Holden, Andre Braugher, Toby Jones, William Sadler

Rating

R

Main Genre

Horror

Runtime

126
Frank Darabont is once again adapting a Stephen King novel in the solid horror sci-fi movie The Mist. Thomas Jane leads an ensemble cast as David Drayton who is the leader of a group of survivors that are holed up in a supermarket after a mist envelops their small town in Maine. Within that mist are Lovecraftian tentacle monsters that are intent on killing them. Inside the store, the group of survivors is split into two factions: Drayton's group that are practically trying to figure out a way to survive, and Mrs. Carmody's (Marcia Gay Harden) group believes what's happening is a biblical punishment by God for our sins.
What Happens at the End?
Many of the survivors end up being killed except for Drayton and four others – including his son – and after stealing a car, they try to drive out of the mist, which doesn't seem to end. After running out of gas, they realize that there is no way out of this other than death, so with the four remaining bullets Drayton has in his gun that was stolen, shoots everyone in the car. He then steps out of the car to be taken by the monsters, but almost immediately the mist rolls away, and the army shows up around him to take him to safety. Having just killed his own son for what turns out to be no reason, Drayton falls to his knees, screaming. One of the more disturbing endings, as it is comical how quickly the U.S. Army shows up to help him, but Jane masterfully displays the despair of his actions because he knows he is going to have to live with what he just did. A grim ending to an already cynical movie that serves as a strong social commentary and an effective horror movie, just like the movie that inspired it, Night of the Living Dead.
Stream on Peacock
Zodiac (2007)
Zodiac
Release Date

March 2, 2007

Director

David Fincher

Cast

Jake Gyllenhaal, Mark Ruffalo, Anthony Edwards, Robert Downey Jr., Brian Cox, John Carroll Lynch

Rating

R

Runtime

157

Main Genre

Crime
David Fincher's effortless recreation of San Francisco in the 1970s that chronicles the killings of the infamous Zodiac killer and the people who were trying to hunt him down. Zodiac mainly follows Robert Graysmith, played by Jake Gyllenhaal, who is a cartoonist at the San Francisco Chronicle who becomes obsessed with finding the killer. Graysmith's wife moves out and takes the kids after receiving vague threats over the phone from a man who just breathes heavily into the receiver due to his obsession with finding the killer. Graysmith finds the man who he believes to be the killer, Arthur Leigh Allen, played by the excellent John Carroll Lynch, working as a clerk at a hardware store, and they exchange intensely knowing looks without saying a word to each other.
What Happens at the End?
Years later, the only survivor of the first killing depicted on screen comes forward and identifies Allen as the man who tried to kill him. The movie ends with text saying that Allen died before the police could question him, thus the case remains open. Fincher is the perfect person to direct this dour movie, coldly and precisely depicting the killings and the investigation into them. Though this is not a horror movie, Fincher tries his hardest to make it feel like one with multiple murders that are recreated on screen from real case files that feel deeply forensic as it does not shy away from the intense violence. Zodiac is a masterpiece of storytelling and was revolutionary for digital filmmaking, with a very matter-of-fact ending in which the bad guy is never truly caught.
Stream on Showtime/Paramount+
Related: Why Zodiac is David Fincher's Most Underrated Movie
Oldboy (2003)
Oldboy (2003)
Release Date

November 21, 2003

Director

Park Chan-wook

Cast

Choi Min-sik, Yoo Ji-tae, Kang Hye-jeong, Kim Byeong-Ok

Rating

R

Main Genre

Action

Runtime

2hr
The second installment in Park Chan-wook's Vengeance Trilogy, Oldboy is a haunting tale of revenge that is unlike any other with one of the most disturbing endings of all time. In 1988, Oh Dae-su (Choi Min-sik) is a drunken businessman who is kidnapped and imprisoned in a windowless hotel room for 15 years, missing his daughter growing up. While imprisoned, he takes the time to train and turn his body into a killing machine so when he eventually gets out, he can find and kill his captors. On his journey of fighting hordes of henchmen after finally being released, he meets a young woman named Mi-do (Kang Hye-jeong) and they fall in love with one another.
What Happens at the End?
Eventually finding the man who captured him, Woo-jin (Yoo Ji-tae), it is revealed that he captured him because, in high school, Dae-su caught him committing incest with his sister and he told the whole school. This causes Woo-jin's sister to take her own life because she cannot take the endless ridicule. In order to take true revenge, Woo-jin reveals that Mi-do is actually Dae-su's daughter all grown up, and he hypnotized the two of them to fall in love.
After begging Woo-jin to never tell her, Dae-su cuts his own tongue out as an apology and finds the hypnotist to make him forget the truth so that they can remain together. A depraved ending that is an immensely ballsy move to reveal that the protagonist has been in an incestuous relationship for the entire movie with his own daughter. This is the kind of ending that could only happen in Korean cinema, akin to a Greek tragedy, Oldboy is an upsetting movie not only due to its extreme violence but also its themes of how all-consuming and nasty revenge can be.
Buy on Apple TV+
Antichrist (2009)
Antichrist
Release Date

May 20, 2009

Director

Lars von Trier

Cast

Willem Dafoe, Charlotte Gainsbourg, Storm Acheche Sahlstrøm

Rating

NR

Main Genre

Drama

Runtime

108
A visually stunning tale of grief and depression, Lars von Trier's Antichrist is a graphic and debaucherous film, a balance that only he can pull off. Starring Willem Dafoe and Charlotte Gainsbourg, credited as both He and She, respectively, they decide to go out into a cabin in the middle of the woods in mourning for their dead infant son. Their son died by falling out of the bedroom window after getting out of his room while they were distracted, being mid-coitus. Throughout the movie, Gainsbourg becomes increasingly unhinged, causing major physical harm to Dafoe as well as herself in ways that this writer does not feel comfortable describing.
What Happens at the End?
Though the movie's final shot is very ambiguous, the actual ending has Dafoe having to kill Gainsbourg before she kills him. The film is von Trier's way of working through his depression he was going through at the time, a very unconventional way, for sure, but it is still an immensely personal piece of filmmaking. Dafoe and Gainsbourg give daring and powerful performances as grieving parents, however, this movie is incredibly difficult to recommend as it is greatly distressing and visceral. Antichrist is a masterclass in horror filmmaking that is joyless and borderline barbaric in its violence.
Stream on The Criterion Channel
Polytechnique (2009)
An early Denis Villeneuve movie, Polytechnique is an upsettingly naturalistic movie that is much more difficult to watch now than ever. A reenactment of the 1989 École Polytechnique massacre through the eyes of two students, in which a male student came to the school armed with a rifle and a hunting knife. With a vendetta against feminists and women in general, the student killed 14 women in cold blood and injured countless others.
What Happens at the End?
Ending with one of the survivors taking his own life and another vowing that her unborn child will be a loving person, regardless of the gender, to make sure this tragedy will never happen again. This is at the number one spot due to its overall harrowing verisimilitude and a haunting ending that will stay with you for days. An incongruous piece of art as it is a gorgeous movie, with its black-and-white cinematography, yet stomach turning because it does not shy away from the violence, accurately showing the damage a bullet can do to a human body. Polytechnique is a shocking and unnerving movie that is still disturbingly compelling, which is why this deserves the top spot.
Stream on Kanopy